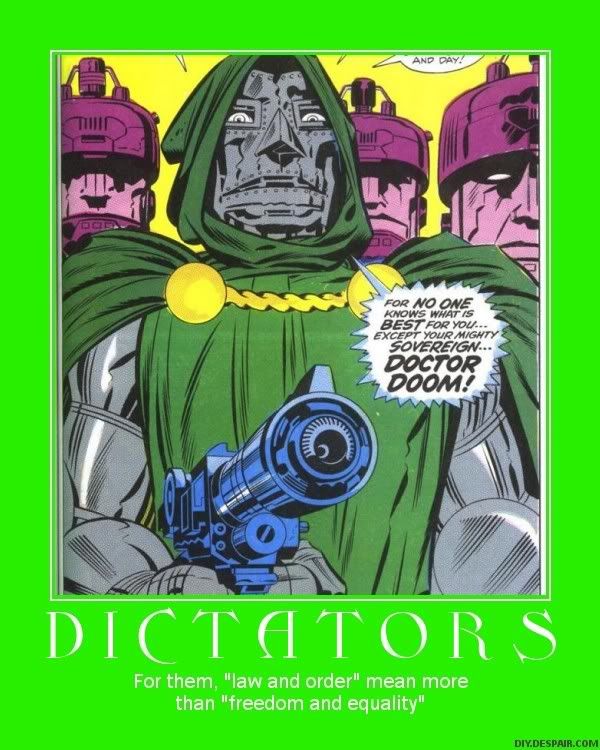 Monday: CURSE RICHARDS! DOOM SHALL DEFEAT HIM AND HIS MEDDLESOME FAMILY ONCE AND FOR ALL. THIS PLAN IS FLAWLESS, FOR IT WAS MADE BY DOOM!
Tuesday: THE PEOPLE OF LATEVERIA SHALL BENEFIT FROM THE SAGE WISDOM OF THEIR BENEVOLENT MONARCH AS HE WISELY IMPROVES THE LAND! AND THEN, I SHALL ANNIHILATE THE ACCURSED RICHARDS WITH MY GREATEST SCHEME!
Wednesday: DOOM WILL USURP THE POWER OF THIS FOOLISH COSMIC BEING WHO SQUANDERS IT ON AFFAIRS NOT WORTHY OF SUCH POWER. DOOM SHALL TAKE THE POWER THAT SHOULD BE RIGHTFULLY HIS, AND USE IT TO CRUSH THE ACCURSED RICHARDS!

Thursday: BAH! SUCH POWER WAS OBVIOUSLY UNWORTHY OF BEING CONTAINED IN THE PERFECTION THAT IS DOOM! I NEED IT NOT TO DESTROY THE ACCURSED RICHARDS! I SHALL SIMPLY USE A PAWN, A PATSY, TO LURE THEM TO MY CASTLE. PERHAPS WHICHEVER HARLOT DELUDED ENOUGH TO WISH TO SPEND TIME WITH THAT AMBULATORY BRICKYARD…..

Friday: DOOM REQUIRES NO PAWNS! PERHAPS THEN, AN ALLY? YES, OF COURSE! NAMOR IS USUALLY QUITE VULNERABLE AT THIS TIME OF THE WEEK…

Saturday: DOOM NEEDS NO ONE! DOOM SHALL NOW DEFY ALL THE LAWS OF SCIENCE AND THE SUPERNATURAL WHEN HE FREES HIS MOTHER FROM THE GRIP OF THE SO-CALLED "DEMON" MEPHISTO!

Sunday: DOOM WILL CONQUER THE WORLD, AND THEN, HE SHALL DESTROY THE ACCURSED RICHARDS!